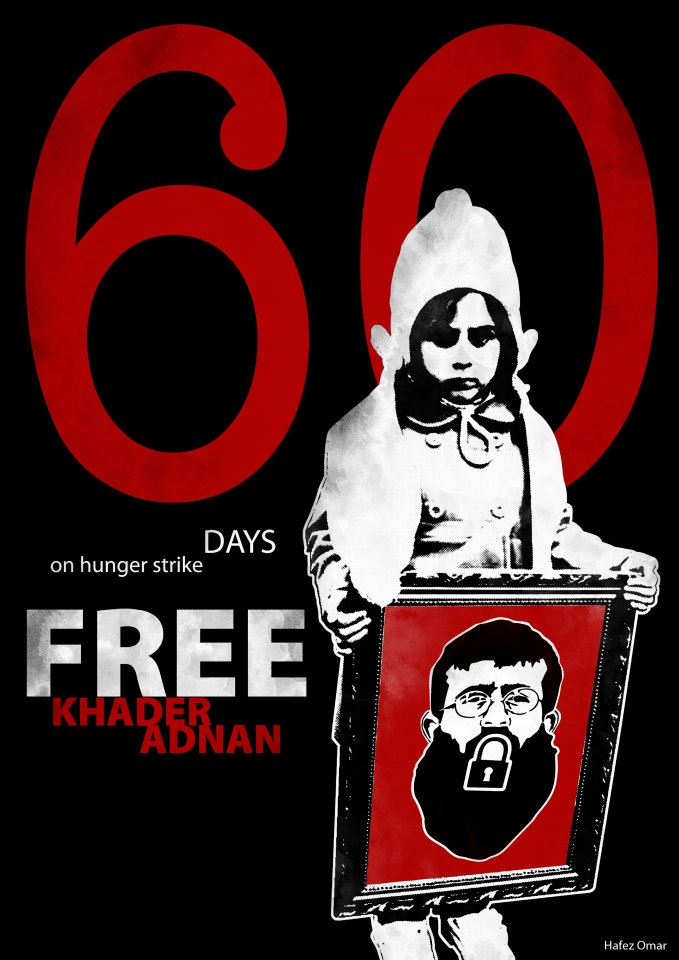 Khader Adnan survived the 60th day of his hunger strike to protest against his immoral and unlawful imprisonment and treatment at the hands of the Israeli occupation. today, Khader Adnan's lawyers launched a last minute appeal to the Israeli Supreme Court.
actions in solidarity continue to take place throughout Palestine, and around the world (i did not compile posts and videos of them, they are too many). during yet another demonstration in front of Ofer military prison, several protestors got injured when the Zionist army shot at them, one young protestor was reportedly shot in the eye.
at a demonstration in front of Ziv Hospital in Sefad, where Khader Adnan is being held captive, chained to a bed, Khader's father appealed to the parents of former imprisoned Israeli soldier Gilat Shalit for empathy and compassion.
in the West Bank and in the Gaza strip, more and more activists are going on hunger strike in solidarity with Khader Adnan. In Gaza, a group of former political prisoners have been on hunger strike since February 11 in support of Khader's fight for his life in dignity.
a group of activists have launched a global call for people everywhere to go on a one-day hunger strike on Monday, 20.2. – if Khader Adnan is still alive by then! if you choose to join the call, make sure you inform as many friends and others about your strike and your reasons for it.
the Palestinian Council for Human Rights Organisations has launched an urgent appeal to the UN while the UN Special Rapporteur for the situation of human rights in the Palestinian territories occupied since 1967 has appealed to the international community and to states with ties to Israeli authorities in particular for immediate action.