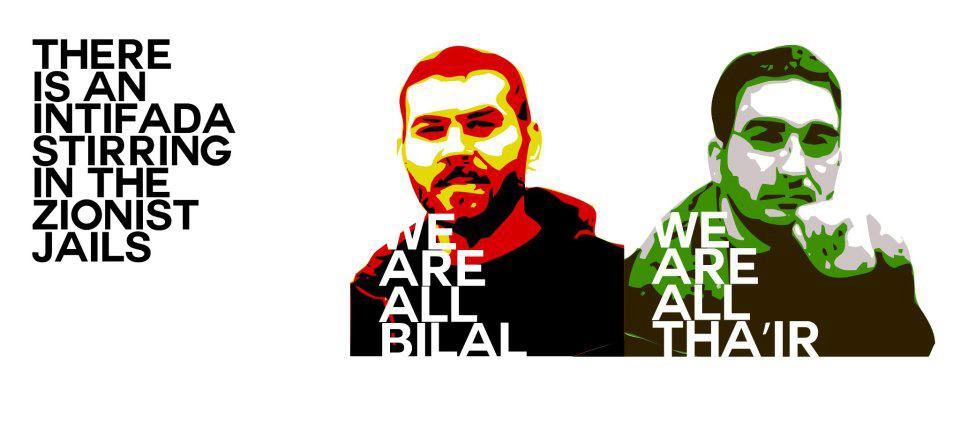 27 year old Bilal Thiab and 33 year old Thaer Halahleh have survived their 69th day of hunger strike. according to Physicians for Human Rights, they are at immediate risk of death, yet both are repeatedly being denied their right to receive visits from independent physicians and family. despite of urgent pleas to transfer Thaer to a civilian hospital, he is still being held at the Ramleh prison's medical clinic. Bilal, who was transferred to a civilian clinic, is reportedly shackled to the hospital bed. after weeks of reports of deteriorating health conditions for both detainees, including the loss of consciousness or the vomiting of blood, Bilal collapsed on May 3 during a High Court hearing. two days ago, Physicians for Human Rights submitted yet another urgent appeal  to the Ministry of Health and to Assaf Harofeh Hospital where Bilal is being held, demanding that he be allowed a visit by an independent physician and a family member. the appeal quotes MK Dr. Ahmad Tibi's description of Bilal's physical condition 40minutes after his collapse. "His blood pressure was 108/80, and his pulse was 48 BPM. Quite slow. His body temperature as measured twice by an IPS paramedic was 35°C! He spoke slowly and with difficulty, complaining of cold all over. He looked very pale and weak and said he had lost about 20 kilograms. Complained of numbness in his feet, and barely reacted to physical pain in that area. I recommended an immediate evacuation to hospital due to the danger to his life." this was four days ago.
today, on the 70th day of Bilal and Thaer's hunger strike and after the postponing of their original date for a hearing, the "Israeli Supreme Court" has rejected their appeal against their administrative detention (i.e. against the fact that they are imprisoned without charges and without being informed about the reasons for their arrest, and therefore without the possibility to defend themselves). although both men are at immediate risk of death, the court stated that "hunger strikes are not relevant to decide on length of administrative detention as such".
what Khader Adnan and later Hana Shalabi began and what Bilal Diab and Thaer Halahleh are continuing, has grown into a mass resistance movement by Palestinian political prisoners inside Israeli jails:
33 year old Hasan Safadi is now on his 64th day of hunger strike – he was reportedly beaten upon arrival at the Ramleh prison medical center, is shackled to the hospital bed and was forcefully given an injection against his will in violation of the Malta Declaration that stipulates: "Physicians need to satisfy themselves that food or treatment refusal is the individual's voluntary choice."; 50+ year old Omar Abu Shalal is on his 62nd day;  Mohammad al-Tajon his 51th day; Ja'far Ezzedine on his 47th and Mahmoud Sarsak  on his 46th day. around 1200 prisoners have joined the hunger strike on April 17, with more joining in the following days and weeks
in exercising extreme control over their bodies when all other choices are taken away from them, the prisoners collectively demand an end to the practice of "administrative detention", an end to the isolation of prisoners in solitary confinement, an end to other punitive measures such as the denial of the right to receive regular visits from family, lawyers and independent physicians as well as access to education.
"The Battle of the Empty Stomachs" is the most inspiring, most powerful, most urgent wave of action in the Palestinian liberation struggle in recent years. in his latest post, Richard Falk, the UN Special Rapporteur On The Situation of Human Rights in the Palestinian Territories Occupied since 1967, explains the background of this mass hunger strike, the context in which it is taking place, and its implications.
.
as the "Battle of the Empty stomachs" continues to gain momentum, and as more and more prisoners have reached the point where they are at risk of death, Israeli prison authorities are responding with MORE punitive measures that include putting prisoners who are on strike in solitary confinement, refusing the right to receive visits from lawyers or family, charging of punitive fines, humiliation, frequent body searches, transfers to other prisons so as to rupture evolving support groups, attacks on prisoners' sections, confiscation of personal belongings, etc.
in the meantime, support for the prisoners is growing. in Palestine, prisoner support tents have been put up in various cities, and solidarity rallies and demonstrations in front of prisons are held on a daily basis – and met by increasing violence through the occupying army.
in Belfast and Glasgow, activists demonstrated in front of BBC headquarters in protest of the BBC's failure to adequately cover the mass hunger strike.
read, inform yourselves, inform others and act:
protest or hold a permanent sit-in in front of the Israeli embassy!
write protest letters (sample and addresses here or at the end of this call!
force mainstream media to report about this struggle!
free all prisoners!