i haven't had the energy to write before, but at last, let me tell you about mahmoud sarsak, who has not eaten in 89 days***, and two other palestinian prisoners on life-threatening hunger strike.

mahmoud sarsak is a player in the palestinian national football team. when he was 22 years old, he was scheduled to play in a friendly match in balata refugee camp in nablus in the occupied palestinian west bank. as a resident of the besieged gaza strip, mahmoud had to obtain security clearance and permission from the occupier to travel through the israeli manned "erez" checkpoint. he followed the usual procedures, obtained the permit and showed up at the checkpoint on 22.7.2009.
 torture and the war crime
when he arrived at erez checkpoint, mahmoud was detained and transferred to "asqalan" prison, where he was interrogated for 30 days. during this period, he was subjected to ill-treatment and torture, including the method known as "shabeh".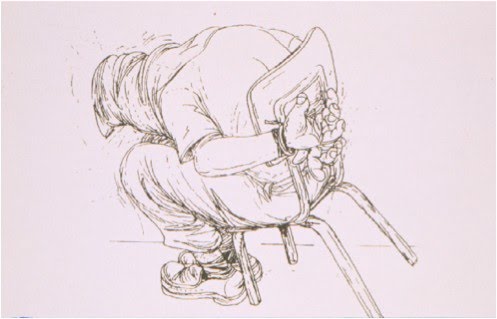 mahmoud's family was only informed about his arrest two days later, whereupon they obtained the services of a lawyer. for ten days, the lawyer was denied access to mahmoud.
after a month of "interrogation", mahmoud officially received a detention order under Israel's highly questionable "unlawful combatant law", which allows for the detention of Palestinian residents of the gaza strip for unlimited periods of time without the need to charge or try them. as several human rights organizations have pointed out, the "unlawful combatant law" provides even less legal protection than the controversial practice of "administrative detention" of Palestinian residents of the west bank. in fact, in denying the right to a fair trial, both statutes as practiced by israeli authorities constitute war crimes.*
mahmoud sarsak, who is the only prisoner currently being held under this law, has been in jail for almost three years without ever having been charged or even granted access to the secret information on which his detention is based.
joining the growing battle of the empty stomachs
on 19.3., 25 year old mahmoud joined thaer halahleh and bilal thiab and others in a growing mass hunger strike protest, which was inspired by the hunger strike of khader adnan, against the practice of administrative detention, isolation, denial of regular access to independent physicians and lawyers, denial of family visits, etc.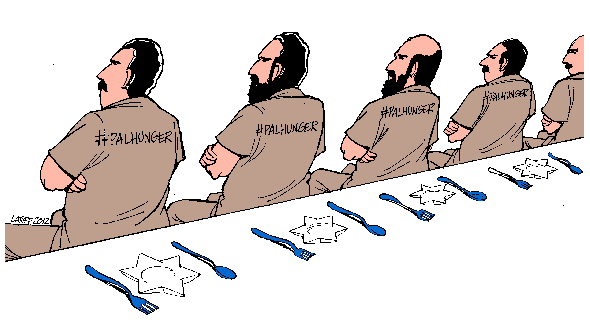 the amazing battle of the empty stomachs, which was at one point fought by an estimated 2000 imprisoned hunger strikers, inspired a powerful wave of support in palestine and abroad and finally reunited palestinians across checkpoints and apartheid walls and borders Palestine like nothing else has in the last few years; here was movement with the potential for real people's power in the streets, something truly exciting and empowering given the state of things in the past years.
"prisoners' deal" defuses the massive support for the prisoners' struggle
on 14.5., the night before nakba day**, "israeli prison authorities" agreed to a deal with the prisoners, which was mostly netogiated on their behalf by a lawyer appointed by the "palestinian authority". although the signing of the agreement meant the survival of bilal thiab and thaer halahleh, who had already bid their families goodbye in heartbreaking letters when their death seemed imminent, the deal remained less than satisfactory, to say the least. instead of providing for the immediate suspension of administrative detention and regular access to family visits, independent physicians and lawyers, etc., the deal foresaw very limited family visits for prisoners registered as residents of the gaza strip, an end to isolation, and the prospect that administrative detention for those currently incarcerated NOT BE RENEWED once the current order expired.
this meant that prisoners with serious health issues would continue to spend time in jail. bilal thiab and thaer halahleh, who had refused the intake of any nourishing substances for 77 days and who were, at that point, at immediate risk of death, would not released until august and june respectively, without having been charged with any offense.
as conditioned in the deal, all but two prisoners ended their hunger strike, but not so surprisingly, zionist authorities soon broke their side of the deal and renewed administrative detention orders, placed prisoners in solitary confinement and refused family visits among. as intended, though, the PA-"israel" coordinated PR stunt had worked; it had taken the wind out of the prisoners' struggle and its massive support in palestine and abroad.
mahmoud sarsak is dying
mahmoud sarsak was not included in the prisoners deal, and has now entered his 89th day of hunger strike. he has received the "offer" to be released and deported from palestine or oral assurances that he'd be released if he stopped his hunger strike, but mahmoud continues his protest until he receives a written guarantee for his immediate release and life in palestine.
mahmoud is dying. yet, it wasn't until his 80th day of hunger strike and after numerous petitions to the israeli district court that he was finally allowed a visit through an independent doctor from physicians for human rights. following the examination, "the PHR-Israel doctor reported that Mahmoud has experienced extreme loss of muscle tissue and drastic weight loss. he has lost 33 percent of his body weight, from an original weight of 76 kilos down to his present weight of 51 kilos. He also suffers from frequent incidents of fainting and loss of consciousness, in addition to lapses in memory. The doctor further reported that Mahmoud is in danger of pulse disruptions (arrhythmias) that are endangering his life. PHR-Israel's independent doctor strongly recommended that Mahmoud be immediately transferred to a hospital, as he is now at immediate risk of death."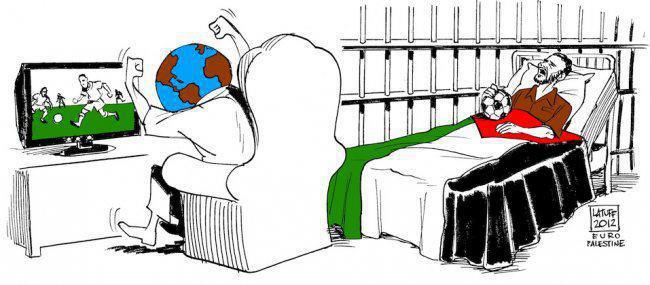 as in the cases of khader adnan, hana shalabi, thaer halahleh, bilal thiab and other hunger strikers at risk before, the phr-israel doctor reported of alarming negligence and unethical conduct on the part of the physicians at the prison's medical center.
two days ago, mahmoud agreed to drink milk while zionist authorities were supposed to once again review his case today. so far, we have not heard if they did so. if mamoud survives, he is likely to be left with life-long health problems and may not be able to pursue his career.
mahmoud sarsak is still in jail, he is dying, and he knows it. like former hunger striker thaer halahleh, who had come to terms with the possibility that he might die in prison and never see his two year old daughter who was born after his arrest, explained upon his release: "I had to take into prospect what I thought was more important […]. My marriage and fulfilling my role as a husband and a father to a daughter I don't know, or a hunger strike that might end in my death. I realized that my hunger strike, which came off the back of being subjected to such abject humiliation and tyranny by Israel, was essential in achieving a life I can be proud of."
left with the choice between life at the mercy of the whim of his jailers and the fight for freedom (the limited version that is available to Palestinians in their occupied homeland) with  diminishing chances of survival, mahmoud chooses to fight. (read mahmoud's and akram rikhawi's letter from prison.)
mahmoud sarsak is one of thousands
in addition to mahmoud, two other prisoners are still on hunger strike:
akram rikhawi is about to enter his 65th day of hunger strike in protest against the rejection of his appeal for early release on medical grounds. due to various preexisting medical conditions including asthma and diabetes, akram has been held at ramleh prison's medical center ever since his arrest in 2004. like mahmoud, akram was also denied visits from independent physicians – in spite of various petitions – until last week, at which point his body weight had decreased to 50kg. after blatant negligence and threats of force-feeding, akram mistrusts the prison's physicians and is therefore reluctant to accept much needed medication. in spite of various petitions expressing concern for akram's life, israeli authorities rejected an appeal for early release on June 5.
38 year old samer al-barq, administrative detainee since 11.7.2010, had joined the mass hunger strike from 17.4. to 14.5. when his administrative detention was renewed in breach of the "prisoner's deal", samer re-launched his hunger strike on 21.5.
while we need to get mahmoud, akram and samer released NOW!, remember that they are only three of over 4500 palestinian political prisoners in israeli prisons, including over 300 "administrative detainees" and over 200 children.
add your voice to the increasing calls for mahmoud's immediate release!
while zionists continues to ignore the increasing international protests and demands by renown organizations and individuals such as amnesty international, FIFA, FIFPro, UN expert richard falk, football player eric cantona, filmmaker ken loach, writer ahdaf souheif, filmmaker and journalist john pilger and others demanding the immediate release of mahmoud sarsak, they are scheduled to host next year's UEFA's European Under 21 competition in several locations in the part of palestine that was occupied in 1948!
* "While administrative detention is allowed under international humanitarian law, it must be used only under exceptional circumstances as it infringes upon basic human rights, including the right to a fair trial. Indeed, the denial of a fair trial constitutes a 'grave breach' of the Fourth Geneva Convention, one of the most serious forms of war crimes. This form of arbitrary arrest also contravenes Articles 9 and 14 of the International Covenant on Civil and Political Rights. Furthermore, the European Parliament called on Israel in a September 2008 resolution to "guarantee that minimum standards on detention be respected, to bring to trial all detainees, [and] to put an end to the use of 'administrative detention orders'." The United Nations Human Rights Committee has stated several times that prolonged administrative detention is likely to result in the exposure of detainees to "torture, ill-treatment and other violations of human rights."" (Physicians for Human Rights)
** 15.5. is nakba day, is the day when palestinians and people across the world commemorate the "nakba" (eng: catastrophe), the beginning of the ethnic cleansing of palestine some 64 years ago. massive demonstrations are annually held across palestine and abroad.
*** the post was originally published stating that today (15.6.2012) was the 90th day of hunger strike for mahmoud sarsak. after recounting, today would be his 89th day, so i corrected the post. at this point, though, it doesn't matters whether today is his 89th or 90th or 91st day, what matters is that he has NOT eaten in approximately three months, he is still alife, AND HE IS STILL BEING DETAINED WITHOUT EVER HAVING BEEN CHARGED!
take action now!
sign the petition to UEFA calling for urgent action! (more petitions, action alerts and resources here)
protest or hold sit-ins in front of the israeli embassy!
force mainstream media to report about this struggle!
write protest letters and join the palestinian council of human rights organisations and ohysicians for human rights-israel in their
• "demand that all hunger strikers in advanced stages are moved immediately to civilian hospitals where they can receive the standard of care necessary;
• call for immediate intervention for the IPS to provide all hunger strikers with unrestricted access to independent doctors;
• demand that all hunger strikers are allowed family visits;
• urge the Member States of the United Nations to urgently put pressure on Israel to end its policy of arbitrary detention and to abide by the standard rules for the treatment of prisoners adopted in 1955, which set out what is generally accepted as being decent principle and practice in the treatment of prisoners;
• call on the European Parliament to activate the parliamentary fact-finding mission that includes members of its Subcommittee on Human Rights to investigate the conditions of detention of Palestinians held in Israeli prisons;
• emphasize that the parliamentary fact-finding mission must include an investigation into Israel's illegal practice of administrative detention and the use of the "Unlawful Combatant Law";
• urge Members of the European Parliament to bring the case of all three hunger strikers to the attention of relevant Israeli authorities without delay."
addresses:
secretary general ban ki-moon
united nations
new York, nY 10017 USA
212-963-5012 fax: 212-963-7055
email: ecu@un.org
permanent mission of israel to the united nations office and specialized institutions in geneva
avenue de la paix 1-3
1202 geneva
fax: +41 22 716 05 55,
email: mission-israel@geneva.mfa.
gov.il
the office of the united nations high commissioner for human rights (OHCHR)
civil society section telephone: +41 22 917 9656
mail: civilsociety@ohchr.org mail: ramallah(at)unesco.org
tel: +972-2 295 97 40
fax: +972-2 295 97 41
menachem mazuz
attorney general
fax: + 972 2 627 4481; + 972 2 628 5438; +972 2 530 3367
brigadier general avihai mandelblit
military judge advocate general
6 david elazar street
hakirya, tel aviv
fax: +972 3 608 0366, +972 3 569 4526
email: arbel@mail.idf.il, avimn@.idf.gov.il
netanyahu office
3, kaplan Street, PO Box 187 kiryat nen-gurion, jerusalem,
fax: +972- 2-651 2631 email: pm_eng@pmo.gov.il
directory of their embassies: http://www.mfa.gov.il/MFA/Sherut/IsraeliAbroad
directory of members of the european parliament:
http://www.europarl.europa.eu/members/public/geoSearch.do;jsessionid=45E7355AB5D96FFD0DA60BA4AE91E4F2.node2?language=EN
michael.spindelegger@bmeia.gv.at, kab.bz@diplobel.fed.be,Trees.VanEykeren@diplobel.fed.be, info@mvp.gov.ba, iprd@mfa.government.bg, imprensa@itamaraty.gov.br, imprensa@planalto.gov.br, pm@pm.gc.ca, ministar@mvpei.hr, minforeign1@mfa.gov.cy, podatelna@mzv.cz, udenrigsministeren@um.dk, vminfo@vm.ee, umi@formin.fi, bernard.kouchner@diplomatie.gouv.fr, inform@mfa.gov.ge, guido.westerwelle@auswaertiges-amt.de, gpapandreou@parliament.gr, titkarsag.konz@kum.hu, external@utn.stjr.is, dcpf@mea.gov.in, minister@dfa.ie, gabinetto@cert.esteri.it, segreteria.frattini@esteri.it, mfa.cha@mfa.gov.lv, tonio.borg@gov.mt, secdep@mfa.md, post@mfa.no, DNZPC.Sekretariat@msz.gov.pl, pm@pm.gov.pt, msp@mfa.rs, ministry@mid.ru, miguel.moratinos@maec.es, beatriz.lorenzo@maec.es, registrator@foreign.ministry.se, info@eda.admin.ch, info@mfa.gov.tr, haguew@parliament.uk, stewartkb@state.gov,
miguel.morati