gaza is still being bombed. though not as frequently as before.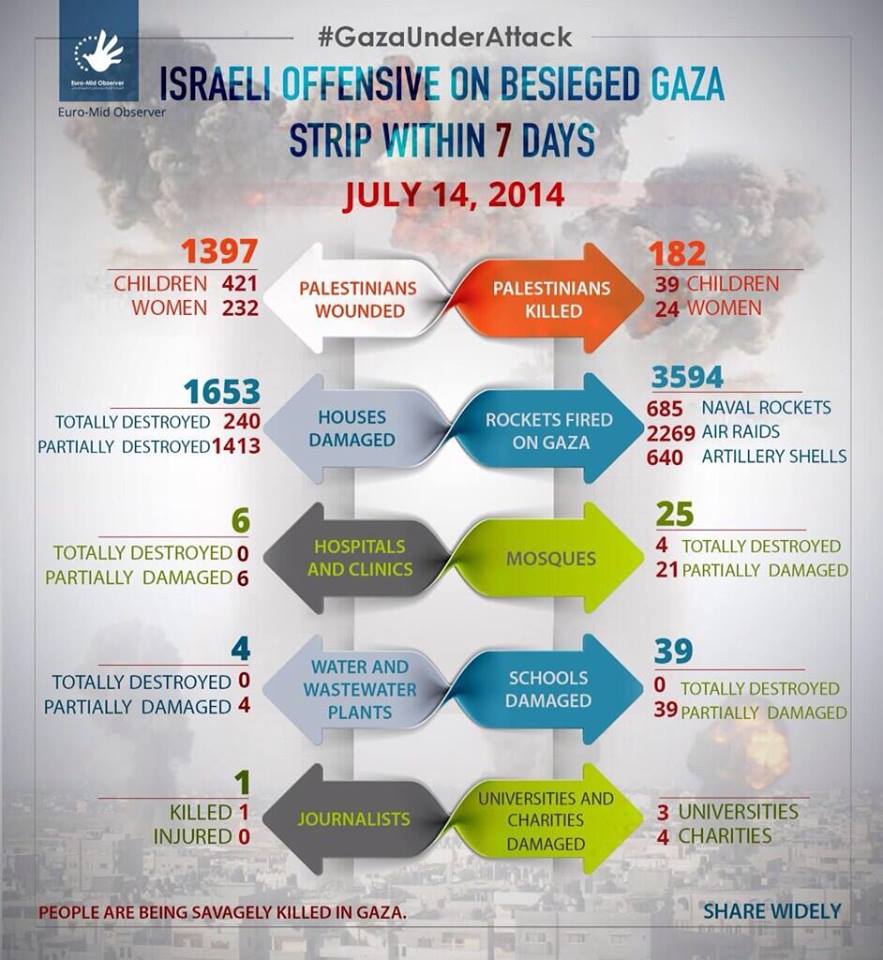 by now, the death count is at least at 192 murdered children, women, elderly, men, infants… and over a 1400 palestinians injured, some severly, some maimed for life, requiring lifelong care in a place where the same peole that bombed them also have the power and desire to withhold necessary medical and rehabilitatory treatment. zero death on the israeli side – and that IS significant. if nothing else does, this so clearly shows that we are in no way looking at a situation of two symmetrical enemies that just can't get along. do you know that more israelis die of allergies or car accidents than through attacks by palestinians? the same cannot be said for palestinians. here is UN ocha's update of yesterday.
european news is full of rumors of a ceasefire. and headshaking that hamas has rejected the ceasefire. let's talk about that.
first: hamas has repeatedly offered a ceasefire, based on important conditions (basically along the lines of "stop bombing gaza, stop the military crack down and arrests in the west bank and east jerusalem, release the prisoners that were re-arrested in the last few weeks who had JUST been released in the framework of the prisoners' swap deal"). in fact, hamas made this offer at the beginning of these series of terrible air strikes – and netanyahu proudly refused, boasting that he wasn't talking to anyone about ceasefires.
of course mainstream media did not pick up on that.
what about the current "ceasefire" that hamas rejected? it turns out the egyptian brokers never even contacted hamas to negotiate this ceasefire. they only talked to netanyahu's staff and then publicized the one-sided agreement. hamas, having heard about it only then and seeing as they never had the chance to insist on their crucial demands, stated that they have not agreed to a ceasefire (they apparently weren't really asked).
meanwhile, the zionists have continued to directly target and bomb houses, including with their residents inside. in thec case of the batsh family, all but three from a large family were murdered at night, only three little boys survived, devastated. the 17 (some report 18) others were picked out of the rubble of their houses, lifeless bodies and body parts. i will spare you the terrible video of the aftermath of the bombing.
sunday morning, the army dropped leaflets over the north of gaza, warning residents to evacuate the area. because the soldiers regard themselves as humane, as fair: we warn them that they are about to get bombed, if they don't manage to somehow save their lives (and nothing else), then we really can't be made responsible. hundred thousands left in fear and are staying in crowded temporary shelters at UN schools and similar structures. displaced – in many cases again.
of course, they don't always warn and their warnings don't have consistent meanings. sometimes, a call or a "knock on the roof" (a missile or several fired at the roof of a house as a warning before a more powerful missile will be fired at the rest of the house) might come an hour before an actual attack, sometimes a minute before, leaving no time to flee. sometimes, there is no warning at all, sometimes, there is a warning, but the attack doesn't come, leaving families in fear and in hiding for hours or days. sometimes, the warning comes, the families run out and seek shelter, and then, not their home is targetted, but the place where they are seen seeking shelter…
here is an analysis by a US jewish journalist indicating that once again, it was israel that broke the ceasefire of 2012 – which hamas had respected.