here more context, plz read.
what horror! a family searching for days for missing loved one, and then a young woman recognizes his brother in a video shot by internationals that documents his execution-style killing. for all to see. DON'T think "i can't imagine", "i don't understand what's going on there". don't dissociate. EMPATHIZE! palestinians ARE like YOU, like ME. if you had seen your brother killed on video, that IS how this girl felt too. DO SOMETHING
22nd July 2014 | International Solidarity Movement | Gaza, Occupied Palestine
The injured young man who was shot dead on camera by an Israeli sniper two days ago has been identified as Salem Khalil Salem Shammaly, a 23-year-old resident of Shajiya. After Salem was murdered, the rescue team was unable to recover his body, which like so many others, remains among the rubble.
The International Solidarity Movement (ISM) contacted human rights organizations in Gaza to attempt to identify the murdered young man but this proved to be impossible. Therefore the video, which has since gone viral, was published describing him as, "the young man in the green shirt."
Salem's family had been searching everywhere for him for two days, including on social media where names and photographs of the wounded and dead are constantly being published. According to Mohammed Alqattawi, his cousin, Salem's sister recognized her brother on the Youtube video uploaded by the ISM.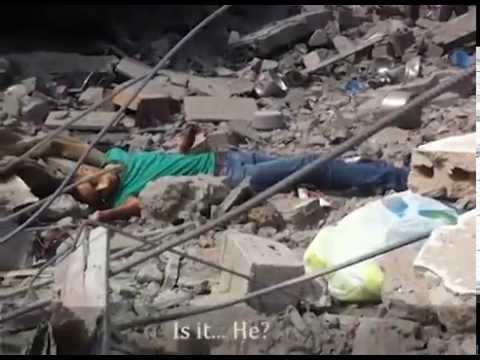 While the Shammaly family has found out that their missing son is dead, other families are still searching for their loved ones.
Dr. Mohamed Abu Arab, one of the doctors from the Norwegian delegation now volunteering in al Shifa Hospital said, "The first attack on Shajiya was for five hours, many people were evacuated from the area, however not everyone was able to leave. Patients have been coming to us doctors and asking us to find their families. We know that they're either dead, in the ruins, or dying. Yesterday a five-year-old child was admitted to the hospital asking for his parents, but we all knew that they were not able to leave Shajiya, and are probably dead."