according to the ministry of health, by 4.30 this morning, israel had murdered 718 palestinians in gaza  – 718! since they the incessant bombing. on monday alone, less than two days after the shuja'iya massacre, which caused SOME outrage and questions, the occupation soldiers killed more than 100 palestinians! so far, they have wounded over 4,563 palestinians in gaza, many of them severly, leaving them maimed or dependent on medical care for the rest of their lives. the number of people getting murdered and injured each day has risen significantly since the start of this onslaught – and this is typical. often, the occupation will do something outrageous – kill a number of people, implement a new policy of apartheit – and it will draw attention, perhaps even elicit some protest. then, they continue, possibly on a slightly lesser scale, among some discussion. and THEN, they simply continue, even on a higher scale, but as long as it's not essentially a new horror, a significant change, people have gotten used to it, little attention drawn. in this video report on the real news network, lia tacharansky explained that statements by zionist military and political leaders indicated plans for a prolonged military offensive (the word is insufficient), and i thought that made sense and felt scared: in cast lead, they murdered a massive number of people the first day and drew a lot of attention and some criticism. this time, they started out killing less people, which therefore made the campaign appear less severe/murderous than the absolute horror of cast lead, but they continue, now killing between 70-100 people every day, and people have gotten used to it. i was just asked by a colleague "things have called down in palestine, haven't they?" … no, they haven't, people still get killed on a massive scale, but at this point, that's not new.
in stark asymmetry, 32 soldiers, and three israeli residents (including one bedouin and one thai-worker) were killed. last night, they killed 23 people in gaza, among them 10 members of one single family. according to UN OCHA yesterday, 140,000 internally displaced persons are now seeking shelter in 83 overcrowded UN schools alone. the number of internally displaced persons that seek shelter in other places, such as 8 government schools that were opened as shelters by monday evening, in government schools that are not oppened as shelters as well as in buildings under construction (both of which are unsafe), in mosques, in front of hospitals, and with relatives or friends is expected to be MUCH higher (monday, it was estimated to lie at around 170,000). since sunday, the church of saint prophyrius and the adjacent mosque shelter around 1000 families. the latin chatolic church and the holy family church also host internally displaced people. (but monday night, a cemetary in the yard of the roman orthodox church was hit by a missile). neighbors and organisations from the community help out with food, water, blankets, and help the churches provide iftar for the families. this is not the first time the churches in gaza have sheltered displaced people, but the number of people seeking shelter is much higher now than at any time before, the greek orthodox archbishop alexios says.
44% of gaza was declared a no-go zone by the time ocha published their report yesterday – hosp
in addition, two missiles hit close to the gaza power plant, causing it to suspend operations, generators were damaged by missiles, and 116 schools, including 75 UN schools, were damaged by shelling (ocha yesterday). yesterday, the unrwa school in al meghazi that also shelters people was shelled while workers that had israeli clearance tried to repair damage from a previous shelling.  over 50 mosques are said to have been at least partially damaged. 1,2 million people have no or limited access to water.
on tuesday, the water network of beit hanoun hospital was destroyed by a missile and one ambulance driver injured.
in the west bank, a settler shot dead 21 year old mahmoud shawamra at the entrance of ar-ram, on tuesday, and soldiers shot 32 year old mahmoud hamamra (shot in the chest) and 19 year old mohammad hamamra (shot in the head) in hossan, near bethlehem, yesterday. many others were injured in ongoing clashes, and a countless number of palestinians were arrested (i don't have numbers). in 48/"israel" and east jerusalem, at leat 931 palestinians were arrested over the past three weeks.

sunday night, 26 members of the abu jama' family were murded because the occupation wanted to make sure that ONE of them was killed
sunday night, the occupation army bombed a three story building in bani suhaila near khan younis that was home to five families from the extended jamw' family. they murdered 26 people (almost the entire family: only three members survived, injured, traumatized and homeless). the zionist army probably decided to drop the bomb on that house because they wanted to kill ahmad sahmoud, reportedly a member of hamas's military wing al qassam, and because they have absolute impunity when they kill masses of palestinains – basically because we let them – they didn't hesitate about killing a building full of people along with him. and let me point out again that killing ahmad sahmoud – even if a member of al qassam – while he was AT THAT MOMENT not a direct threat for them, was a war crime in itself. as for the calculated murder of so many others… i have no words. watch/read this photostory of the funeral of the abu jame' family by anne and basel yasouri.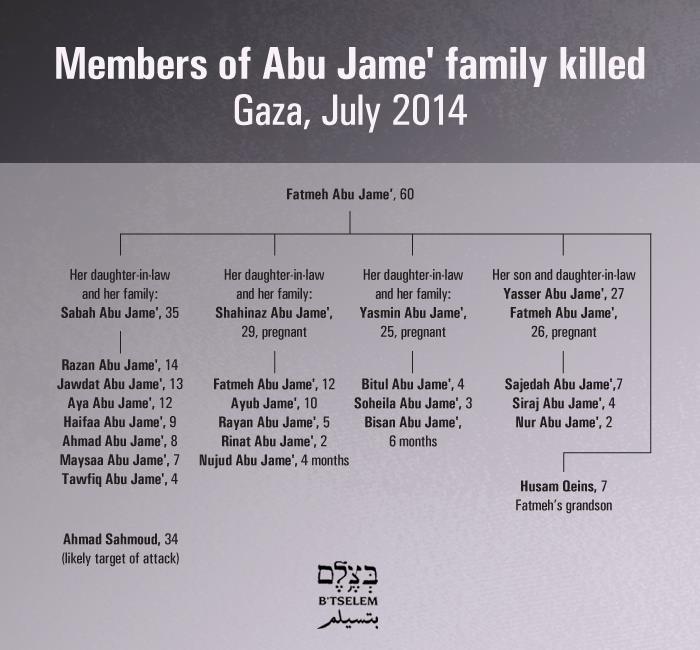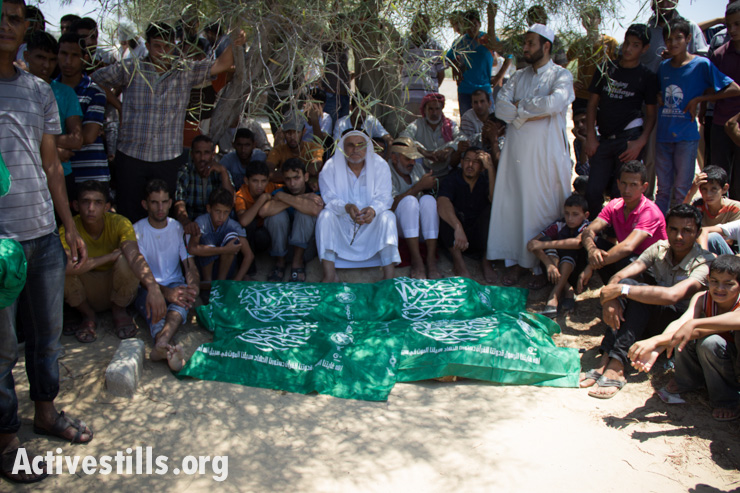 Monday: over 100 palestinians killed, including 11 members of the siam family, the entire kilany family who were german residents, a hospital and al jazeera offices were attacked
monday saw intense shelling throughout the day and night. as i mentioned before, over 100 people were murdered on monday alone. among these, eleven members of the siam family were killed when their family home was bombed – as established in the beginning of this military onslaught, the purposeful targetting of family homes is a stated strategy for the zionist, although it clearly constitutes a war crime. see pictures of the funeral by abed rahim khatib.
monday morning, al aqsa hospital was shelled and five people were killed, while 70 others were injured.
also on monday, two missiles from an f 16 were fired in a five-story residential building. at least twelve people were killed, including the entire al-kilani family, who were german nationals (yet, to my knowledge, no german politician has demanded accountability. if, however, a jewish family with german citizenship had been killed – by muslims, perhaps – i would bet they would give statements and demand answers. again, it's this utter impunity that allows for such killings to continue). ibrahim deib ahmad al-kilani, 53 years old and an engineer, his wife taghrid shoeban mohammad al-kilani, 47 years old, and their children yasser, 8 years old, elias, 4 years old, susan , 11 years old, reem, 12 years old, and yasmeen, 9 years old.
later, as rescue workers tried to retrieve bodies and people trapped inside, the building collapsed on them.
watch johnathan miller's video report from monday night that includes documentation of the aftermath of the bombing of the al salam building.
hours after foreign minister and fascist lunatic liebermann threatened the news network al jazeera, their offices in gaza were shot at, resulting in the temporary evactuation of the office.
during all of this, people were trapped in various places, such as in off al bureij refugee camp, as johnathan miller reports.
Tuesday
on tuesday, at one point, there was another ceasefire – that was again not respected – while the shelling and airstrikes continued throughout the day. bodies were still evacuated or dug out from the rubbe in shuja'iya, and according to ocha, between tuesday 15h and wedensday 15h,  98 people from shuja'iya were reported dead or their bodies had been found.
also on tuesday, hamas reported that they had kidnapped a soldier, though israeli sources took time to confirm that he is "missing" but added that they thought he was dead.
by tuesday evening, various places were getting shelled very heavily, along the shore of gaza, in eastern gaza, and in particular east of jabaliya, in and around khan younis, bein hanoun, beit lahiya and atatra in the north, airstrikes and shelling was reported in eastern maghazi and deir al balah. the occupation army declared khuza'a, east of khan younis, a closed military zone and prevented ambulances from reaching the wounded, the dead, and those that were still alife but trapped by the shelling, although residents had send them SOS messages. only yesterday were ambulances finally able to reach the area. among those killed were two twins, anas and sa'd, 18. they had reportedly just passed their school exams. malaka mohammad writes: "Anas and Sa'd, 18. The twin of our street. Two weeks ago, they passed the secondary school exams with first class degree. They're extremely happy and looking forward to starting their first university year. I cannot forget their smiles. Their faces were always shining. They'd been very lovely, articulate, and intelligent twin. The best ever neighbours one could have. An Israeli rocket ended their lives. The smell of death is everywhere. No more smiles…
"رحماك ربي
wedesday
airstrikes and shelling continued. several people were injured when homes near the deir al ballah hospital in central gaza was shelled. one airstrike killed 70 year ld hasan abu hein, 34 year old osama abu hein and journalist abdul rahman abu hein (24) in shuja'iya. it was only wedesday afternoon when ambulances were finally able to reach those injured or killed in al khoza'a. in  the morning, a cart pulled by a donkey in the bedoiin village of umm al nasar in  the north was shelled. 12 year old rabe'a qasim was killed and four others injured. in addition, nidal hamad al eija, 25, was killed when al shama'a area of gaza city was shelled. 30 others were injured, some left in critical condition. mohammad ziyad habib, 30, was killed in eastern gaza city. the list is incomplete.
in addition, yesterday, the occupation army once again attacked wafa hospital and this time claimed that it was actually a hamas headquarters, contained weapons, etc. european media immediately repeated these claims and quoted generals or political leaders as saying that the attack on the hospital was important. they mentioned that patients had either "left" or been evacuated, making it sound as if the shelling of the hospital friday night and the attack yesterday were one and the same. the phrasing suggested associations of patients and staff leaving in an ordinary way or perhaps even of the occupiers having helped them to evacuate, while in fact, they were shelled, without electricity, and only miraculously could avoid casualties and injury. activists from ism, who stayed in the hospital from the moment it was first "threatened" (by a call AND a knock-on-the-roof rocket) and who were visited by a large number of journalists during their stay at the hospital, absolitely reject the claim that the hospital served as hamas headquarters then. perhaps militants hid in the ruins AFTER it was abandoned, but i am not sure they would then have the opportunity to stock weapons there. either way, this "militant headquarters" myth in no way serves as an acceptable explanation for the attacks on the hospital while staff and patients were inside. ism further accuses the occupation army of using falsified information as evidence: an satellite image of what they army claims shows wafa hospital is actually one of the "right to life society" (apart from the fact that just because the army painted a red dot on an image, they do not proove in any way that a specific location is a launching side for rockets. this is doubtful though. the director of the hospital warns that there is 7 million $ worth of vital medical equipment in the hospital that he worries might have been damaged). read more here.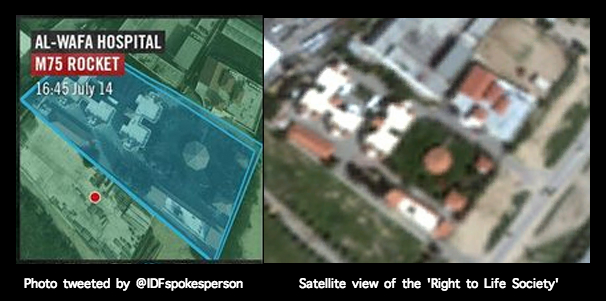 the un human rights council finally voted to launch an inquiry into the occupiers "military offensive" in gaza. after goldstone, i am not holding my breath, but FINALLY something.
please see this site for pictures of many of those killed in gaza, i think it is an important endeavor to take the time and portray those empty statistics we see.
also watch jonathan miller's video of yesterday
and once again, join bds (bdsmovement.net) and sign the petititon for an arms embargo now!