CORRECTION: two palestinians were shot dead during protests in qalandia last night, seven today. more later.
as i'm writing this, at least 815 palestinians in gaza were murdered and 5,237 injured since the beginning of this military onslaught. by yesterday evening, 116 palestinains had been killed on wednesday alone. (this site and this site collect pictures of some of the martyrs when they were alive) in stark asymmetrie, 35 occupation soldiers, two other israeli citizens, one of whom was an unprotected bedouin, and a thai worker were killed. according to ocha's latest report, 44% of 360km², a place that is smaller than many cities (berlin: 892km², 1572km², madrid: 606km²). there are families and whole communities trapped and without access to food or water. the number of internally displaced people is already three times the number during cast lead. this is significant – the occupation army is intentionally targetting residential buildings and areas – often killing and maiming people – and destroying civilian homes and infrastructures. according to this ocha snapshot, by tuesday, 2,655 housing units were destroyed or severly damaged, while 3,175 housing units were damaged, but still inhabitable. these numbers are now higher. it is a policy of targetted displacement as laid out in the dahiya doctrine.
yesterday afternoon, occupation soldiers bombed another one of the 83 UNRWA schools that now shelter over 141,000 internally displaced people. at least 16 people were killed and 150 injured. here is a segment from al jazeera's report on the bombing:

In an interview with Al Jazeera, Chris Gunness, the spokesman for UNRWA, the UN's humanitarian organisation in Gaza, said his organisation had been in contact with Israeli forces as fighting closed in on the shelter.

"We gave the Israelis the precise GPS coordinates of the Beit Hanoun shelter.

 We were trying to coordinate a window [for evacuation] and that was never granted," he said.

He said he could neither confirm nor deny that Hamas fighters were near the building, but said Israel and Hamas "must respect the 

inviolability of UN premises, and humanitarian law".

He called the attack "tragic and appalling".

Robert Turner, the director of UNRWA, told Al Jazeera there was no warning from the Israelis before the shells landed.

"This is a designated emergency shelter," he said. "This was an installation we were managing, that was monitored [to ensure] that our neutrality was maintained."
see the report and watch the video of the aftermath of the bombing by itv news as we..
in addition, the occupation also bombed al dora hospital in gaza city. two year old ibrahim al sheikh omar – who was in the icu at the time – was killed and 30 others were injured. this in addition to the attacks on wafa hospital, the bombing of al aqsa hospital on monday that killed 5 people and injured 70, the attack on the water network of beit hanoun hospital that injured an ambulance driver.
also, yesterday, news emerged that occupation army had kidnapped 150 palestinians from gaza and brought them to an unknown destination as prisoners. this is highly illegal and should be an outrage. of course they claim they have arrested terrorists, but i'd be surprised if even a tenth of them were active hamas members (even a fifth).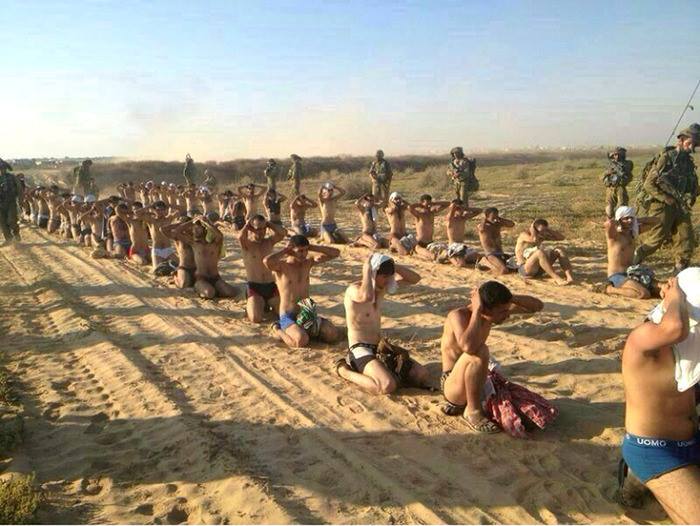 in the west bank, yesterday the army closed off the main entrance of deir istya village in an act of collective punishment, forcing villagers to take a detour.
in the nablus area, activists marched once again to huwwara checkpoint in protest over the ongoing massacres in gaza. the army fired tear gas and rubber coated steel bullets at the protestors. the protestors fired fireworks at them.
in nablus city, a solidarity protest took place.
in jerusalem, a mob once again attacked  a palestinian.
extraordinary and historical resistance happened in the west bank and in east jerusalem last nightin east jerusalem, protests and clashes took place in various places at night. damascus gate was filled with thousands of people who wanted to access al aqsa mosque to pray. in the old city, occupation forces tried to bar people from the compound and beat them with batons, including the elderly. youth then stormed the police blockades and shoved the occupation forces aside. thousands of palestinians, young and old, entered haram al shareef compound to pray while. youth actually chased away the oppupation forces and then controlled the gates to keep them out. young men also opened and ransacked the office of the occupation forces inside the compound. videos on facebook of the clashes here and here (of masses forcing their way into the compound) and here.
what is said to have been the biggest demonstration in the west bank in at least a decade with 10,000 partipants took place yesterday in the ramallah area. masses of people gathered in ramallah and marched to qalandia, determined to enter jerusalem to reach al aqsa mosque. very violent clashes occured at qalandia checkpoint, with occupation forces shooting A LOT of life ammunition. this time, palestinians actually shot back, i've never seen that at a demonstration. at least two palestinians were killed, and many many injured. amira hass wrote that ambulances "have been moving back and forth, ferrying the injured from the Qalandia checkpoint and keeping close to the demonstrators, which include men and women of all ages. " friends were in hospital with the injured until early morning. video on facebook also here and pictures here.
palestinians are pissed off and they are on the streets. we should be too.
please also check my update with compilations of events between sunday night up to yesterday.